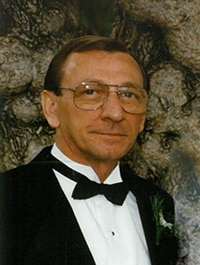 Leo Bruce Tarnowski
Bruce Tarnowski was born to Catherine and Peter Tarnowski in Camrose Alberta on March 7, 1947. He passed away peacefully on September 8, 2019 at the University of Alberta Hospital. He was 72 years old.
Bruce was fortunate to grow up with his five brothers and four sisters. Bruce married Helene (Theroux) on April 17, 1971, and they were blessed with their two children, Corey and Barbara. They left Edmonton and moved to Calgary in 1989. Bruce was a hard working man with a great sense of humor. His love of sports, particularly the Edmonton Oilers, was second to none. Bruce, Helene and Barbara moved back to Edmonton in 2016. Up until the Lord and Savior called him softly home, Bruce faced many challenges with his health. We hope you remember his beautiful smile, his kind heart, and his laughter.
Bruce leaves to mourn his wife Helene Tarnowski; son Corey (Aimee) Tarnowski; grandchildren: Emily and Alexander Tarnowski; siblings: Grant (Roseanne) Tarnowski, Larry (Colleen) Tarnowski, Randy (Gail) Tarnowski, Janice Volk, Donna Niehaus, Linda (Terry) Turta, and Carol McClain as well as many nieces and nephews.
Bruce was predeceased by: mother Catherine Tarnowski, father Peter Tarnowski, daughter Barbara Tarnowski, and brothers Vern Tarnowski and Darryl Tarnowski
We wish to thank everyone for comfort, support and
acts of kindness to Bruce at the University of
Alberta Hospital since March 7, 2019.
Funeral Mass
10:00AM Tuesday September 17, 2019
St. Dominic Savio Catholic Church
14406 62 Street, Edmonton AB