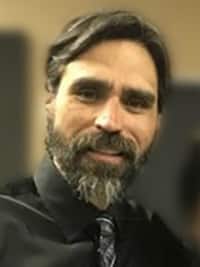 Leonard Joseph (Rob) Robillard
Leonard Joseph (Rob) Robillard, carpenter, baseball encyclopedia, photographer, poet, boxer, journalist, loving father, spouse, brother, uncle, son and provider passed away after a long battle with depression on February 17th, 2020. He was 46.
Rob was born in Medicine Hat, Alberta into a loving family, where he spent the first part of his life getting into trouble with, and bringing joy to his brothers and sisters. He would always love the sunny, arid place where he was born. He always retained a bit of his Alberta cowboy attitude even after he moved away to Edmonton for post secondary school. He met his long term spouse and chose to settle down and help raise her child as his own. Like many men in Alberta, for a time, he worked in the oilfields which allowed him to provide for his young family.
Later on, as a construction foreman, he took a leading role in many of this city's greatest projects to date, such as Rogers Place, Stantec Tower, the Jasper Ave LRT tunnel, and the new U of A nursing school, among others. He was a great leader on and off the job, and took the lead in his children's after-school activities. He managed scouts and coached baseball for his son Jude, and cheered from the sidelines of soccer games and jazz band concerts as his daughter's number one fan. He loved his children with unusual dedication, thought, and sensitivity, and his children consider themselves immensely lucky.
He often expressed his feelings through music, both as a budding guitarist, and as a curator. He always had a song that he loved playing in his car or on his speaker at home, and he had built up a repertoire playing the songs he thought told their story the best: The Weight by The Band, Atlantic City by Bruce Springsteen, and so on. Rob enjoyed sports and had an encyclopedic level of knowledge of baseball and American football. He watched all of the Toronto Blue Jays and the Denver Broncos games that he could.
Sadly, Rob proved unable to cope with his deepest emotional wounds. He was iron-willed but also deeply sensitive, which caused him great pain. In the end, he fell victim to his own weaknesses. In death he found the peace that eluded him in life.
He rests in love and peace with his late sister Debby Kathie Robillard her daughter Nya Raine and her son Ryan Joseph Robillard Keeler, his sister Cindy Robbin Robillard and their father Leonard Robillard Sr. He is survived by his daughter Catherine Sophie Willier, his sons Jude Jacob Henry Robillard and Charlie Rey Robillard, as well as his former spouse Shelley Lynn Willier, his mother Dianne Tanasiychuk, his 4 siblings Harold, Karen, Wayne and Allan Wright, as well as many nieces and nephews, his large extended family and his ever faithful cat companion Mr. Gorgeous.
A Celebration of Life will be held on Saturday February 29, 2020 at 10:00 AM at Trinity Funeral Home 10530-116 St Edmonton.  Interment to follow at Little Mountain Cemetery.