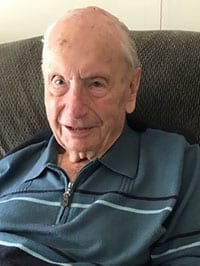 Lewis Philip Minkler
Our hero,  our rock, our example to live by, our source of laughter, comfort, advice and direction has passed on Apr. 1, 2018, and will forever hold a special place in our hearts.
Lew was born in Agassiz, B.C. on Oct. 27, 1923 to Mayta and Lewis Minkler. At 21 years of age he joined the RCAF and was proud to serve his country as a Flight Lt. in the 415 squadron, piloting a Halifax bomber (Torchy Tess) on 30 missions.
Lew worked his whole career in the oil patch, in the early years as a roughneck (including the historic Leduc #2 discovery) and later for BJ Hughes.
In retirement, Lew and Marilyn travelled, golfed and loved to vacation in Osoyoos and Carmel.
Lew will be loved and missed forever by Marilyn, his wife of 68 years, daughters Debbie (Len), Pat (Gord), Marilyn (Wayne), Sue (Robert), grandchildren Aaron, Jill, Heather, Emily, Nick, John, Rebecca, Molly, and great grandchildren Lily, Charlotte, Ayden and Olivia.
There will be a private family celebration of Lew's life at a later date.