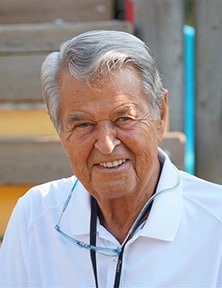 Lloyd Goulet
July 17, 1939 - August 1, 2020
Our family is deeply saddened by the passing of Lloyd Goulet. On August 1st, he lost a tough battle with cancer. He is finally out of pain and at peace in God's loving arms. He will be fondly remembered and so greatly missed by his Daughter Lisa, Son-in-Law Raymond and the center of his entire universe, Grand Daughter Avery. She was his pride and joy and he loved her beyond words.
About a year ago, Dad was given a beautiful and unexpected gift! He discovered he has a Son, (Richard More, 62, Calgary) he didn't know existed. They met and enjoyed time together, then 4 days prior to Dad's passing I had the pleasure of meeting Richard and his wife Carol and we were all united at the hospital.
Our Dad leaves behind a large family of 18 brothers and sisters, 12 of which are still living.
Dad touched the lives of many and will always be remembered for his love of life, vivacious personality and his incredible sense of humor and what we call "Lloyd-isms". His legacy will live on in the hearts and minds of everyone he interacted with.
You have left our lives, but you will always be in our hearts!