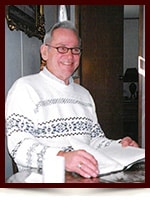 August 17, 1934 - January 24, 2013
On January 24, 2013 Lloyd Schacker of Edmonton passed away at the age of 78 Years.  Lloyd will be remembered for ever by his loving children: Judy (Rob) Dube, Cheryl (Robert) Spicer and Kurtis (Gloria) Schacker; their mother Joan, his grandchildren: Rol (Jennie) Dube, Kris Spicer, Kyle Spicer and Kory Spicer; his great-grand kids, Dylan Dube and Lauren Dube; his brother Gordon and two sisters Doreen and Diane as well as numerous nieces, nephews, relatives and many friends whom he loved very much.
He was predeceased by his brothers, Elmer, Jim, Stan and his sister Evelyn.
He has gone to join his beloved dogs, Snuffy, Eisha and squirt who he missed everyday.
For any of us lucky enough to have him in our lives, his crazy sense of humor will be missed forever and the laughter that surrounded him.
May he rest in peace.