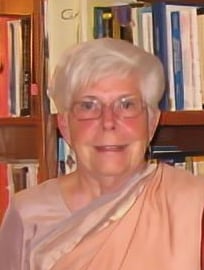 Lois "Dianne" Leonard
Lois "Dianne" Leonard (dob October 30, 1941)
It is with great sadness, but also with gratitude for a life well-lived, that the family members of Dianne Leonard announce her passing on October 31, 2020, at the age of 79, in Edmonton Alberta.  Her children Heather (Earl) and Tammy/Tamara (Bruce), and her grandchildren Cailyn and Jenny lovingly remember her as a caring and nurturing mother and "Nana".   Dianne's brother David (Bonnie), half-brother Doug, brother in law Bill (sister Monica, deceased) and husband of 25 years (1961 – 1986) Robert, also fondly remember her.  Dianne was pre-deceased by her mother (Lois) in 1978, and father (Doug), in 1985.  She leaves behind nieces and nephews (Chris, Stephanie, Timothy, Todd and Tiffany).
After dedicating much of her adult life to raising her children and caring for her mother, Dianne became a Registered Nurse, graduating from the Misericordia Hospital – School of Nursing in 1982.  Dianne was a compassionate and dedicated nurse on the Edmonton "Palliative Home Care" team for over 25 years.   She was a tireless advocate, and provided respectful end of life care to all her "little duffs" (patients), allowing a dignified closure to 'each journey', while respectfully supporting and caring for the families.
Dianne led a full life.  She enjoyed the excitement of travel, and toured extensively throughout Canada, and the U.S.  Her adventures extended overseas to the United Kingdom, Italy, and France, and she explored many countries via European waterways on river cruises.
In pursuits closer to Edmonton, and her favorite retreat at Ma-Me-O Beach, Dianne enjoyed quilting and cross-stitch, played bridge, attended yoga, and loved to host/socialize events with her 'Free Spirits'.
Dianne enjoyed many forms of music and theatrical entertainment, frequently attending the symphony, and productions at The Citadel Theatre, and was an avid supporter of the Edmonton Chamber Music Orchestra. Dianne was fortunate to enjoy close 'rapport' with childhood chums, neighbors, and nursing colleagues, and she could always be counted on to offer/provide help to a vast number of friends.
However most of all, Dianne enjoyed and grew into her role as 'Nana'.
She continued her loving support of daughters Heather and Tammy, with frequent phone calls and visits…  Her 'best joy' was a maintaining very active and devoted relationships with Cailyn and Jenny.  Her unconditional caring took many forms: 'chauffeur to school', baker of favorite recipes (banana bread and cinnamon buns), listener and willing co-conspirator in any plan or activity, from sleep-overs, to watching movies or playing hooky, she enjoyed supporting her grandchildren in whatever way she could.
Throughout her illness, and especially since her passing, her daughters appreciate the kindness expressed by many family members and friends, as they offer sentiments of Mom's friendship and their heart-felt loss, describing Dianne as kind, generous, loving, strong, special, devoted and compassionate.
Her daughters will be hosting a celebration of Dianne's life in the spring of 2021, and will contact family and friends with specific details.
In lieu of flowers, Heather and Tammy would be grateful for donations in memory of Dianne be made to the Edmonton Humane Society online at https://www.edmontonhumanesociety.com/how-to-help/donate/donate-now/ or via mail to: 13620 – 163 Street NW, Edmonton, Alberta T5V 0B2.