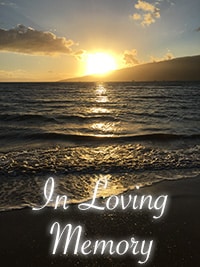 Lois G. Barlow
April 16, 1940
-
November 14, 2023
It is with great sadness that we announce the passing of Lois Barlow (nee Fenton) on November 14th, 2023, at the age of 83.
She was predeceased by her husband, Howard in 2004, her parents, Dave and Bea Fenton, and her brother Keith. She is survived by her sons Wes (Helen) and Wade, and many relatives and friends.
Lois was born in Edmonton on April 16th, 1940, and moved as a young child with her family to a homestead in the Athabina District near the town of Flatbush, Alberta. She loved the farm and all the animals, especially her horses. She attended a one-room school with all grades up to Grade 8. With the school closing, the family moved to Westlock, Alberta, where she finished her studies. Then it was off to Edmonton where she did secretarial work. She began working at the Edmonton Journal in the mid-1970s, where she was trained in blind typesetting and proofreading.
Lois married Howard, from Listowel, Ontario in 1960, and raised two sons, Wes and Wade, in the Wellington Park neighbourhood in Edmonton.
Lois loved curling and enjoyed going to Eskimo and Oiler games with Howard.
Many thanks to Dr. Liu and to the palliative care and home care staff for their kindness and support to Lois these past few years.
As per her wishes, there will be no memorial service. In lieu of flowers, please consider a donation to a cancer-related charity of your choosing.