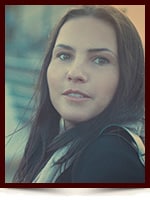 Lori Lynn Ellis
1978-2014
On Friday September 19, 2014 Lori Lynn Ellis returned home to her Father in Heaven. Born February 9, 1978 in Edmonton, AB Lori was just 36 years old at the time of her passing. Lori was a light in this world with her witty sense of humour and fun-loving personality. She made friends everywhere she went.
People were drawn to her positive energy and radiant smile. She was a loving mother to her 16-month-old son, Rudy. To her nieces and nephews, she was the fun, crazy aunt. Loved ones will miss Lori's sense of adventure. Whether she was traveling the world or dressing up for a night out, Lori was always up for a good time. Lori loved the outdoors, so it was fitting that she lived in the Banff area for more than a decade. She was athletic, completing several triathlons. She also enjoyed paddle boarding, snowboarding, and running daily with Rudy.
From the time she was young, Lori loved to read. She was an exceptional student, graduating from Paul Kane High School in St. Albert and completing nursing school at Mount Royal University. She enjoyed her work as a nurse at Foothills Medical Centre in Calgary and Sturgeon Community Hospital in St. Albert. She always wanted to become a doctor – a desire she said she got from her grandfather the late Dr. Burns Larson.
Lori was a true friend - a good listener with a caring heart. Loved ones will remember long talks and many laughs with Lori. She always had a story to tell. Life was never dull with her around. She had nicknames for everyone in her family and she and her two brothers could keep the whole house laughing for hours with their jokes and hilarious storytelling.
Lori loved her little boy dearly and her light lives on in him. Family members will treasure the sweet memories of Lori and share them with Rudy through the years - until the day when we are all reunited as an eternal family forever.
Lori is survived by her son, Rudy (16 months) and his father Paul Comaniuk, her parents Randy and Joanne Ellis, and her siblings Tyler Ellis, Adam (Laura) Ellis, Karli (Brad) Prince, and Jordan (Greg) Turgeon.
Visitation
7:00PM - 8:30PM Friday September 26, 2014
LDS Stake Center
17416 – 115 Street Edmonton, AB
Funeral Service
11:00AM Saturday September 27, 2014
LDS Stake Center
17416 – 115 Street Edmonton, AB
Interment
Namao Cemetery
An education fund has been set up for Rudy. If you would like to donate to support Lori's son, you can do so by clicking here.