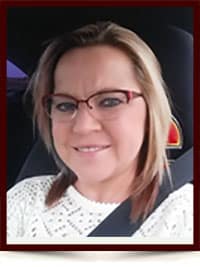 Lorna Sandra (Langer) Krause
August 2, 1973 - November 9, 2016
We are saddened to announce the passing of Lorna on Nov. 9 at the age of 43 yrs. after a lifelong battle with Cystic Fibrosis (CF).
Lorna will be remembered for her love for life, her fighting spirit and her encouragement to others as she herself battled through a Double Lung Transplant (Living Donor) and her ongoing health challenges.
She will be lovingly remembered by her husband Steve, daughter Chelsea, parents Roy & Sandy Langer, sister Vera and brother Corey, nieces and nephews, family and many friends.
Celebration of Life
Sunday November 20, 2:30 PM.
The Salvation Army Temple
9115 75 St. Edmonton
In Lieu of flowers donation may be made to Cystic Fibrosis Foundation
Special thanks to Lorna's Transplant Team and the Nurses on 5E3 at the University of Alberta Hospital.