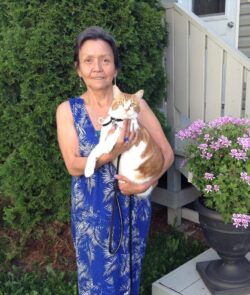 Lynda Charlotte Pierce
December 27, 1949
-
December 17, 2022
It is with deep sorrow and much love that we announce the passing of Lynda Charlotte Pierce of Edmonton Ab. on the year of our Lord, December 17th, 2022 at the age of 72. 
She will be lovingly remembered by her husband of 25 years, Cecil Pierce; children: Bunny (Gerry) Leblanc, Paul (Lisa) Cook, John Cook, Philip Cook, Kyla (Kevin) Quesnel; step children: Kelvin (Margot) Pierce, Debra (Paul) Fillion; 18 grandchildren; 8 great grandchildren; brother, Cecil Price; as well as numerous family and friends. 
She was predeceased by her daughter Darlene Cook; 11 siblings; and her parents Paul and Emily Price. 
Lynda was born on December 27, 1949 in Prince Rupert, British Columbia. In her youth she lived in various coastal communities of B.C. including Bella Bella, Bella Coola and Butedale. She had fond memories of traveling with her family, enjoying the beautiful mountains, lakes and waterfalls, as they commercially fished along the inlets. 
Becoming an adult, she moved to Alberta, spent time in the Northwest Territories as well as extensively traveling with her husband Cecil throughout the United States and Canada. She was employed in various occupations throughout her life including driving a school bus, taxi and ambulance as well as being a teacher's assistant and a janitor but most importantly, she was a mom. 
In addition to her love for Jesus Christ she loved everyone she associated with. Lynda was an avid knitter and crocheter, sharing her creations with family and friends, as well as donating beneficial items to the homeless. Many of
the church members have received items she has made and seldom did she come to church without giving someone something. She enjoyed baking (which she always shared with others), painting as well as experimenting with other various crafts. 
She loved traveling in the motorhome and especially when they could put the boat in the water and fish. She took trips to Pinehouse Lake, traveled through the mountains to Kitamaat and even dared to go to a curling bonspiel in Saskatchewan in the cold February winter! 
Her memorial service will be held at " The Cowboy Church" at 265 Fir Street, Sherwood Park, Alberta on Dec. 29th at 1:00 p.m. with refreshments following. 
Everyone is welcome! 
Memorial Donation items may be brought in the memory of Lynda Charlotte Pierce to the Cowboy Church for Rick's ministry to the homeless. 
The family wishes to send a special thank you to the staff at the CICU in the Royal Alexandra Hospital for their care and compassion as well to the Pastor and the congregants of The Cowboy Church, especially those who are providing their time, service, food and music.