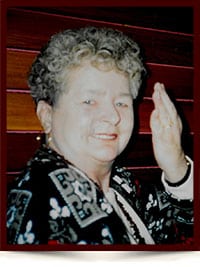 Margit Kiriaka nee "Jeppesen"
Margit Kiriaka nee "Jeppesen" passed away on March 9th, peacefully and with grace, just short of her 78th birthday.
Predeceased by her father Jens Jeppesen, mother Helga Jeppesen nee "Kjaer", inlaws George and Helen Kiriaka and her husband Steve Kiriaka.
She leaves 3 sons, Walter, James and Roger Kiriaka, grandson John Szewczuk and wife Jessica, as well as 2 great grandchildren, Aria and Luke. Sisters Bente (Tom) Elliot of Vernon and Sorna (Bud) Cox of Lethbridge as well as numerous nieces, nephews, cousins and a aunt in Denmark and Canada.
A resident of Beverly since 1962, she was well known and respected by people that knew her.
Her family came to Canada in 1950, staying in Saskatchewan and eventually settling in Prince George, BC, where she went to school, played on the softball teams and had the honour of serving "Johnny Cash" in a restaurant she worked at prior to marriage.
The most common comments about Margit, was that she was a "Gentle Soul" and ever ready to help out where necessary.
The world is a little sadder now that she has passed.
In loving memory of our "Morsingbo" and "Tonjoi".
"We are hosting a "Tea for Margit" on
Tuesday, March 14th, 1-3 PM at the Beacon Heights Rink meeting room. 12037-43 Street.
Please feel free to attend and share or hear a story about Margit.