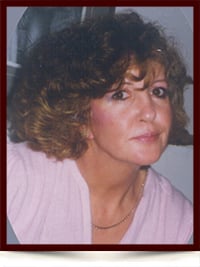 Margueritte Darlene Owings
Remembering
Margueritte Darlene Owings
Born                              Passed Away
October 29, 1938                  December 19, 2017
Edmonton, Alberta                Edmonton, Alberta
Our beautiful, spiritual, mother left us in her sleep, (just as she wanted).
At peace now and out of pain.
The world was a kinder and better place while she was here.
Left to honour her uniqueness and memories are:
Daughter: Angella Nider Daughter: Kim Marocco (Frank)
Son: Garry Nider (Linda)
Her childrens father Peter Nider (Rita)
5 Grand children:
Mandy (Petro)
Jenni (Jackson)
Tessa (Will)
Jessica (Duncan)
Amy (Shawn)
10 Great Grand children:
Jayden, Aidan, Nathan, Christian, Peter,
Henry, Izabelle, Geogria, Regan, Cole
Sister - Audrey Anderson (Orrey)
Chosen Sister - Iolanda Marocco, Her loving sidekick - Shiloah
A huge thank you to the very special people at Norwood Hospice
who spent the last three months caring and loving her as family.
A memorial for Margueritte will be held in the early spring at Trinity Funeral Home.