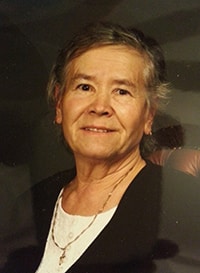 Marica Ledić (nee Ugarković)
With her family by her side, Marica Ledić (nee Ugarković) passed away on May 31, 2020 at the age of 81 years. 
Marica will be lovingly remembered by her children Anton Ledić (Corinne Metz), Anica (Alvin) Beug and Susan (Mitch) Cooper, grandchildren Colton Ledić, Briana Ledić, Anthony Beug, Phillip Beug, Venus Beug and Halie Cooper, sister Anka (Stjepan) Gaspar, niece Margaret Gaspar and nephew Tony Gaspar. 
Marica was born on April 30, 1939 in Brinje, Croatia.  She moved to Canada at the age of 21 and met her husband Drago Ledić who she married on Oct.27 1962.  They settled in Edmonton and built a home in the Elmwood neighborhood where she raised her family.  Drago passed away on March 2, 1975 leaving Marica home with 3 young children.  Marica's children worked hard together to remain a strong and independent family after Drago died.  They had many struggles moving forward without Drago but their strong family bonds kept them together.  Even though Marica did not speak English well, she held several jobs in the Edmonton area and was a hard worker.  She also kept a garden and loved to suntan in the yard.  Marica loved spending time with her grandchildren and they always put a smile on her face.   Marica loved her home and stayed living in her home until it was clear she could no longer care for herself; she took up residence in a long-term care facility in 2017.  The children visited Marica daily to make sure she was cared for. Marica was strong until the end.  It was a daily struggle the last few months of her life and she remained determined to go when she decided.  Once she saw all of their children, she felt free to be at peace.