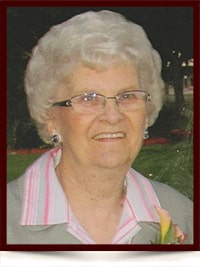 Mary Evelyn Peterson
Mary Evelyn Peterson passed away on November 29, 2017 at the age of 85.  She will be lovingly remembered by her children:  Evelyn (Kevin) of Winfield, AB; Don of Edmonton; and Sharon (Fred) of Edmonton; three sisters:  Ruth and Helen of Vernon, BC; Ivy of Rimbey, AB and one brother Ken of Vancouver, BC.  She is also survived by two grandsons, two granddaughters and numerous nieces and nephews.
Mary was born and raised on a farm near Pendryl, AB.  She married in 1952 and raised three children on a farm in the Pendryl area.  In 1982 she moved to Edmonton and worked as a Personal Care Aide at the Central Park Lodge nursing home until she retired.  Mary enjoyed many hobbies:  crafts, knitting, sewing, oil painting, puzzle making and reading.  She loved playing cards at the Blue Quill Senior Centre.  Scrabble and Canasta were two of her favorites that she like playing at the Lifestyle Options complex in Duggan where she resided the last four years.  She was an avid sports fan, as she always watched the Oilers and Blue Jays games on tv.  Spending time with her grandchildren also gave her great pleasure.
A memorial service will be held Friday, December 15, 2017 at the Southminster-Steinhauer United Church, 10740 – 19 Avenue at 2:00 p.m.
In lieu of flowers, donations may be made to the Bissell Centre or Operation Friendship Seniors Society, organizations which she supported through her church.