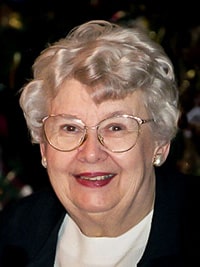 Mary Macrae Alloway (Tocher)
It is with great sadness that we announce the passing of our mother, grandmother, and great-grandmother, Mary Alloway, on September 17, 2018.
Born in Edmonton on January 10, 1930 to William and Wilhelmina Tocher, Mom attended Parkdale and Eastwood schools and then graduated in 1952 from the U of A School of Nursing. In 1954 she married Douglas Ross Alloway, whom she had met in university, and the next seven years saw the addition of three sons. Mom stayed at home to raise us until Dad passed away, far too soon in 1970, whereupon she returned to the U of A to upgrade and was granted a BScN. She re-entered the workforce in 1972 as an Occupational Health Nurse with the City of Edmonton. In 1991, after 19 years of service with the City, Mom retired to enjoy the company of her growing family, travel, and tend to her home and garden. Mom will forever be remembered for her selfless devotion to her family, her kindness and her shortbread.
In addition to the three of us: Doug (Debbie), Brian (Linda) and Barry, Mom leaves behind grandchildren Tracy (Neil) Tucker, Glenn (Christina), Andrea, Stuart, William and Elizabeth and great-grandchildren Jack, Sebastian and Maria. She was predeceased by her younger brother Doug in 1980.
Thank you to the many caregivers at Millwoods Shepherd's Care for the kindness and care provided for Mom during the last years of her life as she came to require the nursing and comfort she loved to provide to others.
Celebration of Life
11:00AM Saturday October 6, 2018
Millwoods Shepherd's Care Centre
6620-28 Avenue NW