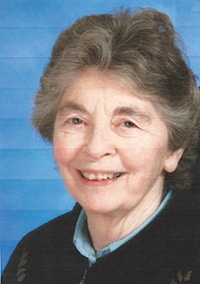 Maxine Irma (nee Craig) Thomson
How God has used ...
A Little Girl From the Prairie
The Story of Maxine Irma (nee Craig) Thomson
As we reflect here today, we wonder about this little lady and wonder about her background. She has been laid up with Alzheimer's for some twelve years, but just last Tuesday, December 15, 2020, the Lord said, "you've endured this long enough, and it's time you were taken Home". She's now safe in her Heavenly Home and rejoicing with the saints who have gone before and will be watching for each of us to join her when our turn comes to leave this world. But, let's pause and relate a bit about this special lady.
Maxine was born in Unity, SK on September 8, 1932, the first born, to Monty and Barbara Craig. This couple had four more children, during those depression years, in the next five years. Betty, Dick, George and Joe. Monty was able to buy a small farm, and using a couple of granaries, was able to build a modest home. With a good size garden and a variety of livestock, plus Monty's work at a grain elevator, they survived those hard times.
Maxine was a "tomboy", loved sports, especially baseball, and speed skating, and was useful at carrying out tasks around the farm, but also loved to climb a tree, sit on a branch and read a good book.
After high school, and because to study education was cost prohibitive, she came to Edmonton for nurses training in an apprentice training program. It was a special celebration when she graduated from the Royal Alex School of Nursing on April 14,1954. She loved her work, in the nursery department, of the hospital for the next year.
Maxine had not come from a "religious" family, but upon coming to Edmonton, found herself interested in the Beulah Alliance Tabernacle (now church), attending the church services, the young peoples' meetings, and any other gatherings she could fit into her busy schedule. She soon discovered what it meant to have a personal relation with Jesus Christ and that she could have her "sins forgiven" and become part of God's forever family.
Maxine next attended Bible College, in Regina, SK, doing a four year missions program in three years, while working three nights a week at the Regina Hospital. At a Missions Rally, at the school, she felt that the Lord would have her become a missionary, and made application to the Christian and Missionary Alliance organization. She was expecting to end up in Africa, but was assigned to Viet Nam, in South East Asia.
After a six week trip across the Pacific Ocean on a small freighter, with a stop in Manila, Philippines, she finally reached her new field of service at the end of 1959. She studied Vietnamese in Saigon for her first year, then was assigned to work at a leprosarium at Ban Me Thuot, and learning Raday, she was one of the missionary staff at the compound, when the lady doctor (her roommate), the administrative head, and a young man who taught the patients agriculture skills, were taken captive, by the Viet Cong. Maxine was taken at gunpoint, to get medications for their captors, to take with them as they left. The rest of the staff were told that they must leave the compound because this time "they only wanted the heads, but not the hands and feet". Her next assignment was teaching English in Saigon. She really enjoyed the young people. Her next post was to the resort area of Dalot, learning Koho, and working in a clinic. At this clinic many tribal babies born were assisted into this world by Maxine. Her experience in the nursery, at the Royal Alex, a few years earlier sure helped her in this task.
After five and a half years of service, Maxine returned home in 1965. Because of the escalation of the war, she chose not to go back, and after a long distant courtship (she lived with her mother, and worked at the Unity Hospital), she married Keith Thomson on April 15, 1967. The Lord has been good to this couple, giving them four children, Doug, Linea (Tim), Craig (Kathleen), and Carolyn (Ricky), eight grandchildren and two great Grandchildren. It's been a wonderful life!
The Lord used a small bible study group, conducted by the Thomson's, for some of the first refugees from Viet Nam, in 1975, to be the beginning of the Edmonton Vietnamese Alliance Church. On one visit to a rooming house, where ten single men were living, a former soldier was invited to the meeting. Thu Nguyen accepted the Lord, went on to Bible school, married a pastor's daughter from Toronto, and was responsible for starting four Vietnamese Alliance churches in Canada. This couple became the first Vietnamese-Canadian missionaries, and worked among the refugees in Cambodia and Taiwan until their recent retirement.
When Keith retired , from Woodward's, in 1991, they became Associated Staff with International Student Ministries Canada. Until Maxine developed Alzheimer's, she was involved in conducting Bible studies and teaching conversational English with, mainly, students and scholars from China. She loved this privilege!
As a family, we are very grateful to the staff and sisters at the Youville Nursing Home for their good care of our wife and mother and extend our heartfelt thanks.