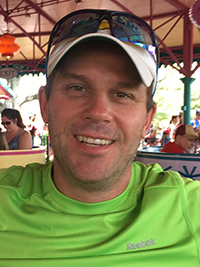 Michael (Mike) Bennett
Passed Away
April 28, 2022
We are heartbroken to announce the passing of Michael (Mike) Bennett taken from us far too soon. Mike passed away peacefully on April 28, 2022, at the age of 53 with his family by his side.
Anyone who knew Mike loved him. Mike had a big smile that would light up a room, had a hardy laugh, was generous, funny, mischievous, genuine, and smart. He had a heart of gold and said it like it was.
Mike loved his Boston Bruins "the rest suck ass" and enjoyed a great game of golf with his buddies Cart 1 & 2. His two biggest sporting highlights was attending the Masters Golf Tournament twice, also attending a Bruins home game. He traveled to many places but loved Las Vegas, that was his "Happiest Place on Earth."
Mike was blessed to have many great family and friends who cared deeply about him. In return Mike loved them wholeheartedly.
He will lovingly be remembered by his loving wife of thirty years Lana, his amazing daughters Shailyn and Meggan who he was so very proud of, and his furry companion Remi Martin. His parents Rose and Gerry Bennett, sister Lynda (Mike), brother Wayne (Kristy) their children Spencer & Abigail. In-laws Jim and Adeline Lemiski, brother-in-law Jason (Debbie) son Carter - Mike's Godson.
Please hold your loved ones tight and never take a moment for granted. Until me meet again, we love you forever Mikey/Dad.
Mike's family would like to thank everyone and are very grateful for the amazing support and heartfelt condolences.
Celebration of Life
11:00AM Friday May 13, 2022
St Charles Catholic Church
17511 112 St Edmonton, AB
Memorial Donations 
Alberta Diabetes Foundation
1-020 -Li Ka Shing Centre for Health Research Innovation
University of Alberta Edmonton, AB T6G2E1
http://www.canadahelps.org/en/dn/m/3248/donation
Canadian Mental Health Association Edmonton
#300 - 10010 105 St Edmonton ABT5J 1C4
http://edmonton.cmha.ca/donate