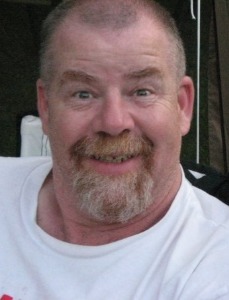 Michael (Mike) Ian Melymick
January 25, 1962
-
February 10, 2023
Following a lengthy battle with lung cancer, Michael (Mike) Ian Melymick of Edmonton, Alberta, passed away at the age of 61 years on February 10, 2023.
Mike is survived by his four children, Shea, Markijana, Michael, and Madison; his three older brothers, Mel, Mark (Terry), and Murray; nieces and nephews; dear friends; and his cats, George and Lenny.
Mike was born on January 25, 1962, in Saskatoon, Saskatchewan, to Nick and Theresa Melymick (née Scappaticci). He was a strong union leader and supporter and fought for members of the CN Workers Union, where he was a brakeman and then conductor for over 25 years. He ran as an NDP candidate in the Federal 2006 election and gained more votes than any other NDP candidate in his riding ever had in the past.
Mike was a proud Saskatchewan Roughrider fan, always wearing something green and white or the Rider logo. He enjoyed his time most simply by smoking cigarettes and drinking dark roast coffee while watching 1970s gameshows and Jeopardy. Like his older brothers, he played sports, acted in plays, and loved music, reading, and world politics - he always had the news on. He was also proud of his Ukrainian, Scottish, and Italian heritage. Mike enjoyed the little things in life and would want all those he loved to bask in the simple joys of life just as he did.
He was a charismatic and passionate character with a larger-than-life personality who will be dearly missed.
A Celebration of Life is scheduled for 2:00 pm on Friday, March 3, at the Trinity Funeral Home, 10530 116 Street NW, Edmonton, Alberta T5H 3L7.
Those wishing to view the service via livestream can do so by following the link: https://MikeMelymickMemorialCelebration