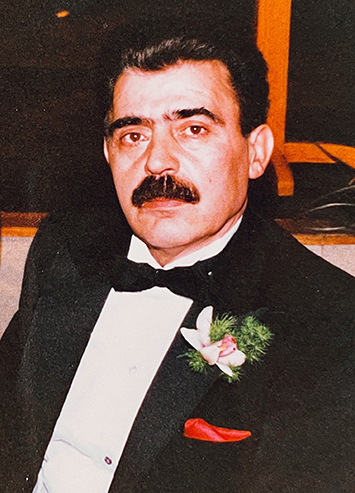 Michele (Mike) Dominelli
September 26, 1935
-
May 8, 2023
On May 8, 2023, at the age of 87, our beloved Michele (Mike) Dominelli passed away peacefully in the loving care of nurses, doctors and family.
Mike was the youngest of seven children and was born to parents Michele Dominelli and Felice Lavorato on September 26, 1935, in Arena, Catanzaro, Calabria, Italy. He is survived and deeply loved by his family: devoted wife, Mena Dominelli (nee Francese), his proud children Roberto, Sandro (Brandy), Dino and Renata (Salvatore), and his beautiful granddaughters, Sofia, Ava and Ella. He is also survived by his brother in Italy, Alfredo, brother and sister in laws in Canada and in Italy, numerous nieces' and nephews, and many other family members. He was preceded in death by his father Michele, his mother Felice, his sister Catarina, his brothers Giuseppe, Bruno, Angelo and Pasquale, his father in-law Giuseppe and mother in-law Antonia, his brother in-laws Michele and Bruno and nephews Mike and Joe; all of whom Mike missed dearly.
With humble beginnings, Mike immigrated to Edmonton from Italy in 1954 at the age of 20 and lived with his brother Angelo while he began his new life in Canada. He worked with the Canadian National Railway as a water carrier, regularly travelling around Alberta to carry out his duties and working extra jobs in the evenings just to make a living. After receiving news of his unwell mother, Mike rushed home to Italy in 1962 to care for her. It is then that he married his beautiful pen pal, Mena, who was from his hometown. He and Mena came back to Canada to start a new life and make Edmonton their new home.
Mike worked hard his whole life, not just to support his family but because he loved it. Anything he could do with his hands made him happy. It was by working that he learned English, picked up new skills, and made friends. In 1964, Mike became a maintenance man at the Edmonton General Hospital which was a time in his career that he considered some of the best years of his life. There, he learned from people of all walks of life including the hospital's doctors and the Grey Nuns nurses who he greatly respected and that he continued to speak of until his final days. Mike felt close to his Catholic roots here. He used to say that each day he walked into the hospital he felt the presence of kindness; a value Mike carried with him for his whole life.
In 1974, Mike tried his hand at entrepreneurship. He became a contractor and ran a successful painting company for many years. He was so well regarded for his work that Mike's little company got the opportunity to contract for large homebuilders and commercial developers. Working alongside other tradesmen on big jobs, he did what Mike did. He made more friends and learned more new skills, every chance he could get. He made all three of his sons pick up paint rollers and get to work in the family business with him. He was known to start early, end late and would pack terrible lunches for his sons so that they wouldn't want to take too many breaks! Doing a "good job" was important to him. He worked hard, was tough, a bit of a stickler, but he had a reputation of keeping people going by being every jobsite's comic relief.
Mike was the guy his family and friends called when something needed to be built or fixed. He never got tired or bored of the work he did. At the age of 65, at the age most people would retire, Mike instead, applied for a new job. Full of energy and life, he didn't want to stop connecting with people and wanted to keep using his hands to solve problems. He was sure to return the gift of knowledge that was given to him over the years and became a mentor for many young tradespeople throughout his career. He worked as a maintenance man until he retired at the age of 76. Our family lovingly referred to him as "Mike Maintenance" as he continued to do casual contract work right up until the day he was hospitalized with colon cancer in 2019 at the age of 83. Though he beat the cancer, his health continued to challenge him. He was cared for by family and health care workers in the comfort of his home until the last few days of his life.
Mike was a simple man who had few passions outside of his family and his work. He enjoyed a life of Italian simplicity which included gardening, going out for ice cream, watching animal documentaries, going to Home Depot, solving problems with his hands and spending time with his grandchildren. He loved people and people loved Mike. We're grateful to him for being a remarkable role model for his children and grandchildren. We are so proud to call him Pa.
Our family would like to extend our sincerest thanks to the Alberta Health Services Home Care, Mike's doctors, and the Sturgeon Community Hospital for their genuine kindness while taking care of our dad.
A Funeral Service will be held on Thursday, June 1, 2023, at St. Joseph's Basilica, 10044 113 St NW, Edmonton, with a viewing at 9:00 am and mass at 10:00 a.m.
Interment to follow at St. Michael's Cemetery, 13819 82 St NW, Edmonton.
Messages of condolence or stories to share about Mike are welcomed on this webpage as we know that Mike is reading them too.