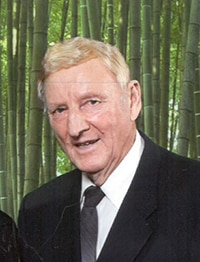 Mike Szatylo
Mike Szatylo was raised in Athabasca, a long time resident of the area where he farmed and was a cattle broker, where Mike made many lifelong friends and bonds.
Mike was an enjoyable person with a wit unlike any other.
Mike enjoyed his travels to the USA.  In 2002 Mike retired in Edmonton where he continued to enjoy life and forge lifelong friendships.
Celebration of Life
Friday December 27, 2019 2:00PM
Trinity Funeral Home Chapel
10530 116 Street, Edmonton AB.
Interment Saturday December 28, 2019 at 12:00 pm at St. Michael Russo Greek Orthodox Cemetery ( Narrow Lake Cemetery).