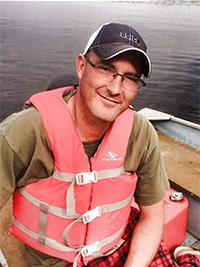 Mitchell Lee Saunders
In Loving Memory
December 3, 1974 - February 8, 2020
Survived by his daughter Samantha and two step sons Bradley, Steven and their mother Tammy(Westlock). His mother Angela, stepfather Glen, Brother Andrew, 3 nieces Emma, Hailey and Abbi. Several cousins, Aunts and Uncles.
Mitchell is predeceased by his father Victor and grandparents Raymond and Shirley Martin(Mcadam) and Harry and Verna Saunders(Harvey).
Mitchell was very close to his brother Andrew who both shared their love of the outdoors. but the love of his life was Tammy and his children.
Miss Me - But Let Me Go
When I come to the end of the road,
And the sun has set for me,
I want no tears or gloom-filled room
Why cry for a Soul set free?
Miss me a little - but not too long,
And not with your head bowed low,
Remember the love that we all shared,
Miss me - but let me go.
For this journey we all must take,
And each must go alone,
It's all part of the Master's plan
A step on the road home
When you are lonely and sick of heart
See family and friends we know,
Take time to heal, tho' we must part
Miss me - but let me go.