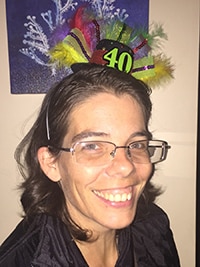 Nicole Harrison
It is with great sadness we announce the sudden passing of Nicole Louise Harrison, tragically taken from us in a car accident on January 17, 2021 at the age of 42.
Nicole was born Sunday, August 13, 1978 in Edmonton, Alberta. She was a kind, giving soul that devoted her life to her children. Her bright smile and infectious laugh could light up a room. Passionate about drawing, reading, and writing from a young age, Nicole went on to contribute several articles to local newspapers and complete a Master of Education (Distance Education) degree.
Nicole will be forever loved and remembered by her children Perry Calvin, Lynyra Irene, and Hollie Jade Nicole Crossan; parents Charlotte Louise Spence and Bruce Fletcher Harrison; stepparents Randall Spence and Debbie Harrison; and siblings Corrina Bachmann-Harrison, Daniel Harrison, Brian Spence, Bonnie Spence, and Nicholas Harrison.
She was predeceased by her eldest son Thomas Timothy Crossan. Nicole also leaves behind numerous extended family members, friends, and coworkers.
In lieu of flowers, please donate to the "Nicole Harrison Memorial" GoFundMe page.
The online memorial webcast can be viewed at the following link: https://youtu.be/aRU_h-0ECug