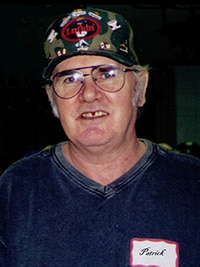 Patrick Thomas Johnston
December 28, 1949 - October 3, 2018
Patrick passed away October 3, 2018 after a short but brave battle with Cancer and had a beautiful day for his journey to our parents in Heaven.
He is survived by his sisters Coleen (Duffy), Lynn and brothers Mike (Amanda) and Dennis (Patricia) as well as Nieces and Nephews and extended family Trish and Greg.
Patrick lived his life as a free spirit and enjoyed meeting new people through his travels. He had many friends who loved him and his "Patrick stories".
He was a self-taught carpenter and created beautiful pieces that will be cherished by the lucky ones who own one. Patrick was also an amazing sketch artist and poet. He continued with his art his entire life.
Patrick's greatest love was helping the Edmonton City Police to stop the vandalism and graffiti around the city.
His sunny smile and "Patrick Hugs" will be forever missed.
We would like to thank Dr. Butts, Dr. Chana and Dr. Kumar, Louise and all the staff at The Cross-Cancer Institute Unit 30 for their loving care and compassion for Patrick.
The family will gather for a private service at a  later date.