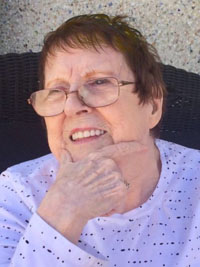 Philomena Marie Atkins
Philomena Marie Atkins passed away on December 2, 2020, at the age of 85 at Lynnwood Extended Care after a long battle with dementia and ultimately symptoms associated with Covid-19.
Philomena will be lovingly remembered by her 4 children: Deborah Atkins, Paul (Karen) Atkins, Graham Atkins, & Carolyn (Brian) Gledhill
Missed by Grandchildren; Ryan, Sarah, Sheldon, Lindsay, Brendan, Nicole, Chris & Eric and Great Grandchildren: Reid, Shaun & Cienna. Sadly missed by 3 surviving siblings: Morris, Mildred & Doreen as well as by extended family of nieces & nephews.
She was born in Dublin Ireland on May 26, 1935 and immigrated to Canada in May of 1963 together with her former husband (late) Desmond Atkins and three children, and later to have one more child in Canada.
They settled in Edmonton with her interests being a devoted mother to her children.
Philomena grew up in Dublin Ireland in a large Catholic family of 10 siblings who greatly enjoyed each other's company so much so that many family members including her parents John & Margaret Fleming also immigrated to Canada.
Philomena will be cremated. Because of the Alberta Health restrictions, we look forward to celebrating Philomena's life with family and friends at a later date to be announced on Deb Atkins Facebook page https://www.facebook.com/deb.atkins.370
The family would like to thank all who have extended their prayers and support to us during this difficult time.
In lieu of flowers, a donation can be to the Alzheimer Society.