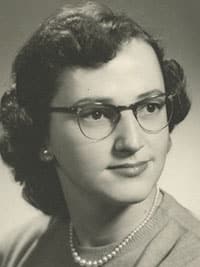 Phyllis Doreen Sheppard
June 22, 1932 - February 6, 2019
We are saddened to announce that our dear mom and grandmother passed away suddenly on February 6, 2019 at the age of 86.
Phyllis was an avid and passionate sewer and knitter who enthusiastically encouraged others to pursue fulfilling hobbies and interests. She was eager to share her fond travel experiences and especially enjoyed sharing her most fascinating and memorable years living in Tripoli, Libya with her family during the 1970's.
Phyllis is lovingly remembered by her son Arne Hovind, daughters Jessie (Tom) Herdes, and Karen (Bryant) Hovind and grandchildren Kevin and Michael Herdes and Julianne Peters.
A public service will be not held but donations are graciously appreciated in support of the Edmonton Mennonite Centre of Newcomers (EMCN) 11713-82 Street NW Edmonton, AB T5B 2V9