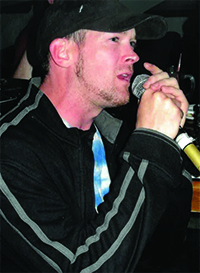 Raegen Darwin Gunsolley
Raegen Darwin Gunsolley was born the 30 of May 1975 in the City of Aberdeen, Scotland.
He passed away unexpectedly on December 11 2018 in Edmonton Alberta.
He leaves behind loving mother Sheila Gunsolley, older brother Kelly Gunsolley, older sisters Wendy DeBruyn and Candace Horsburgh.
He came to Canada at 3 months old and later moved to Cape Town, South Africa at 9 months old. He started school at the age of 5 at SACS elementary school. The family came back to Canada when he was 7 years old in 1982. In 1983 the family moved to White Rock, B.C. because Raegen's great uncle Darwin, and name sake, was badly hurt.
In 1986 Raegen and family returned to Edmonton, where Raegen and twin brother Robbie attended Parkview and Laurier School and Jasper Place High school. He loved karaoke as much as anyone we've ever known. He enjoyed Taekwondo and took various classes for it in Edmonton. Raegen liked to challenge himself in many different types of work and lived in several places such as Grovedale, Grande Cache, Calgary, Edmonton and Red Deer. Raegen worked as a lifeguard at the West Edmonton Waterpark, you knew he loved his job by the way he enjoyed looking out for people. He moved back to Grande Prairie for a few years to be closer to family. He worked for Triple G Logging as an operator of a de-limber in Grande Prairie. Moved to Calgary and worked for Pro-Mark as a Line Locator. Raegan went back to school at NAIT to take a trade as a pipe fitter, he received certification in several safety areas relevant to his field of work. Reagan enjoyed cards, and literature and he had many questions about philosophy, government and the law. He enjoyed debating with anybody about most topics. He had a dream to go to south Africa to help make things better. In his spare time, one of Raegen's hobbies was creating hand-made chain- mail. Raegen collected and enjoyed adding to his vast collection of knives and swords.
Raegen you will be greatly missed by all your friends and Family.