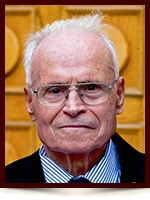 Raffaele Filice
November 10, 1923 - June 7, 2015
It is with deep sadness that the family of Raffaele Filice, age 91, announces his passing on June 7, 2015 surrounded by his loving family.
He is survived by his children: Maria (Ignazio) Borrelli and Frank (Maria) Filice; grandchildren: Massimo (Sanela) Borrelli, Dino (Shelann) Borrelli, Adrianna (Leroy) Esak, Giuliana Borrelli (fiancée Kris McKinley), Gianna Borrelli (fiancée Jorge Marques), Raffaele (Katrina) Filice, David (Megan) Filice and Amie Filice; great-grandchildren: Isaiah, Isabella, Giada, Luca, Daniel, Matteo and Adam; sisters: Anna Fortino, Rita Bozzo, Rosina (Mario) Filice and Esterina Vigna; brothers: Pietro, Mario (Anna) Filice and Carmelo (Valeria) Filice: his sisters-in-law: Gina Filice and Serafina Filice.
He was predeceased by his wife Emma; his parents Giuseppe and Maria; brothers: Ignazio, Giovanni and Francesco; sisters: Teresa, Lauretta and Emma; brother-in-laws: Gradinoro Morimanno, Eugenio Bozzo, Michele Fortino, Michele Vigna and sister-in-law, Gina Filice.
Many thanks to the caring staff at Venta Care Centre as well as relatives and friends for their many visits and support.
Prayers
8:00 PM Friday June 12, 2015
Santa Maria Goretti Church
9110- 110 Avenue Edmonton, AB
Mass of Christian Burial
9:30 AM Saturday June 13, 2015
Santa Maria Goretti Church
9110- 110 Avenue Edmonton, AB
Entombment
Holy Cross Mausoleum
Memorial Donations
Canadian Liver Foundation
Suite 309, 1010 - 1 Avenue NE
Calgary, AB T2E 7W7
Contact Information:
[wpseo_address oneline="1" show_state="0" show_country="0" show_phone="0" show_phone_2="0" show_fax="0" show_email="0"]