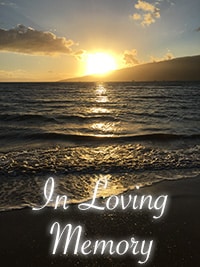 Reginald Nicky Pawliw
April 9, 1960 – December 27, 2019
Reg passed away peacefully the evening of December 27. He and his puppies lived a quiet life surrounded by his children and greatest joy ever, his grandchildren. Reg will be sadly missed and forever loved by his two children; Nicholas (Crystal) and Samantha. His grandchildren, Mercedez and Lincoln, will so miss the presence of their grandfather who spent countless loving hours with them. In dying he will be sadly mourned by the mother of his children; Beth, mother; Jean Mattice, siblings; Carolyn (Garry) Messenger, Barbara (Dennis) Palmer, Patrick Pawliw, Robert Spreen, Darcy (Erin) Spreen, uncle; Robert Mattice,  Aunt; Jenny Pawliw as well as many cousins, nephews and nieces. As cremation has taken place, we are comforted in knowing Reg is at peace by the following words:
"There was light where you once went. There is light where you are now.
 It will be light where you will go again."                           K. Moriarty
With sincere gratitude, thank you to the doctors, nurses and staff of the Royal Alexandra Hospital ICU for their empathy, care and attention in providing Reg a dignified and comfortable passing.