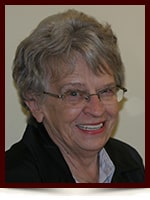 Rhoda Bernice Krawiec (Skelly, Hodgson)
With heavy hearts, our family announces the passing of Rhoda Bernice Krawiec (Skelly, Hodgson) on December 30, 2015. She died peacefully knowing she was loved. She will be forever cherished by her children Maureen Winter (Greg), Jayme Blenkarn (Michele Siderson), Richard Skelly (Kathy Norell) and Craig Skelly (Angela), her beloved grandchildren Carly, Robbie, Shayna, Eric, Myles, Amanda, Alexis and Noah and her great-grandchildren Jonas and Finley.
Rhoda leaves behind her sister Margaret Jean Masson of West Kelowna, BC and many nieces and nephews and will be joining her parents Clarence and Elizabeth Hodgson, and her siblings Alfred Hodgson, Hazel Osbaldeston, Joyce Pratt and twin sister Rhona Traviss.
Celebration of Life
Friday, January 8, 2016 at 1 p.m.
Sacred Heart Church
10821 96 street, Edmonton
With Father James Holland presiding.
In lieu of flowers, donations may be made to Sacred Heart Church (Christmas Fund).
The family would like to thank the amazing staff at the Misericordia Hospital for the care provided for our mom in her final days.