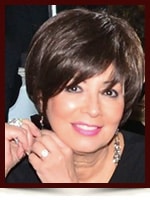 Ria Margaret Boland
Ria Margaret Boland (nee Bovenkerk), passed away on March 9, 2017 in Edmonton, Alberta, after her long battle with cancer.
She is survived by her partner Julian Saluk, her daughter Barbara Akkerman (Maud Meunier), son Brian Akkerman (Shannon) their 3 children, Aurelia, Zyla and Taizen. She is also survived by Julian's daughter Patti (Marc Dabbs). Predeceased by her father Alexander Johannes Bovenkerk, survived by her mother Winifred Bovenkerk-Floris, brothers Eric, Richard (Ans), predeceased brother Roy and surviving wife Ingrid, sisters Tilly Kohlbrugge, Amy Drijssen(Harry), 10 nieces and nephews.
Ria, born in Palembang, Indonesia on July 4th, 1949, grew up in the Netherlands after her parents left Indonesia in 1950. She emigrated to Canada in 1988 with her two children Barbara and Brian.
With her loving partner Julian by her side, on November 9, 2016, she fully committed to becoming a proud Canadian and took the oath of citizenship
Ria was a passionate and proud beautician/esthetician, and she always 'looked the part', even as cancer struck Ria for the first time in 2000, at the age of 50.
She battled and beat this disease twice over the years. She never complained, she was always positive, and is an example of strength and courage to all the people whose lives she touched.
Planning short term goals and finding new love with Julian, together with her love for this beautiful life, gave her strength and helped her beat cancer twice.
Ria absolutely loved to dance and she wore her dancing shoes out, and down, any time she was able to and this continued throughout her courageous battle over the last 17 years. She never gave up fighting, or dancing, right to the end.
Ria was an extremely loving, warm, passionate and gentle lady who touched the lives of all she met along her way.
She will be greatly missed by her loving family and friends.
Celebration of Life
2:00PM Saturday March 18th, 2017
Trinity Funeral Chapel
10530-116 Street NW
Edmonton, AB 
Memorial Donations 
Cross Cancer Society