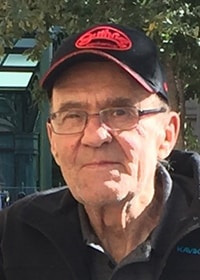 Robert "Bob" Harry Milner
Robert (Bob) Milner, 77, of Beaumont AB, passed away peacefully on May 2, 2020 at the Grey Nun's Hospital in Edmonton Alberta with his family by his side. Bob was born in Notikewan, AB on June 5, 1942. The son of the late John Milner, and Edith (Eggenberger) Milner of Deadwood, AB.
Bob was in the Canadian Navy as a young man and stationed in Halifax, NS. He traveled a lot of the world while in the Navy before he moved to Calgary, AB and Sorrento, BC while he was working with Dome Petroleum, and then moved to the High Arctic and Inuvik and worked in Aviation Management for Canmar Marine, working for Matco, Arctic Oil & Gas Services and retiring as a farmer in Fort Vermilion (Beaver Ranch) in 1996.
Bob had a magnetic personality and was beloved by many. His humor and charm were remarked on by all.  He loved his family and was a hard-working man. We remember him as loving music and playing his guitar for gatherings, as an avid philatelist reveling in his collection of stamps from around the globe and his magnificent gardening skills as he shared his bounty with neighbors and friends. You often saw Bob in the garden with his dog "Buddy" always close by his side.  In Bob's later years, he would find a love for deep sea fishing with his friends and looked forward to trips to Prince Rupert, BC to be on a boat with his nephew Kenny (along with his dog Charlie) as his favorite outings.
He will be deeply missed by his children Veronica Alward of Stonewall, MB, Gary Drummond (Tamara) of Etobicoke, ON, Jacqueline Milner (Sergei) of Wolfville, NS, Samantha Milner (Patrick) of Beaumont, AB, Louise Flooren (Dean) of Fort Vermilion, AB, Micheal Milner of Beaumont, AB, and his step-daughter Deanna Marie Jacobson (Mervin) of Inuvik, NWT. Treasured grandchildren Jesse, Laura, Nicole, Erin, Riley, Danielle, Leanna, Deanna, Cameron, Kelly, Larissa, Mandy, Bradley, Dylan, Jolena and all of his segregate sons, daughters, and grandchildren; sister Connie Zukowski (Joe) of Edmonton, AB and brother Keith Milner (Agnes) of Berwyn, AB. He will also be sincerely missed by several nieces, nephews, and by his little buddy "Charlie".
Besides his parents, he is predeceased by his common-law wife and best friend Lena Malegana; his beautiful friend Iola Ducharme; and his two brothers, Aubrey Milner of Fort Vermilion, AB, and Vern Milner of Pigeon Lake, AB.
There will be no visitation or funeral service at this time. A celebration of life will be held at a later date. Interment will be in the St. Luke's Anglican Cemetery, Fort Vermilion, AB, where he will be laid to rest with his love, Lena Malegana.