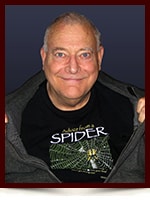 Robin Ernest Leech
February 1, 1937 - June 17, 2016
Our much loved 'larger than life' Robin left us peacefully in the early morning of Friday June 17th.
Robin retired from a wide-ranging and successful scientific career in 2009. After a fall in 2012, he adapted with his usual amazing good humour and courage to his new life as a paraplegic. From his living room office, he maintained a voluminous world-wide correspondence, editing science manuscripts to proper English, publishing articles on binoculars, and keeping up with arachnological questions online.  He continued his work with ASPB, local schools, clubs and nature societies, a fount of information, ideas and good humour to all.
He and Lorie published Once Apun a Time, a 'rich, historical and sometimes earthy collection of puns' last year that gave him much joy.
Robin will be tremendously missed by his wife Lorie Taylor Leech, his family, and his many friends. He said, "no funeral, I hope I left my legacy with people, they will pass it on", and he did, and we will.
Donations in remembrance can be made to the scholarships established in his name:
https://alumni.nait.ca/robinleech or www.uab.ca/HonourLeech