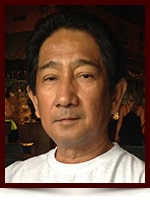 Romeo Mendoza Claro
It is with heavy hearts that the Claro family announce the sudden passing of Romeo Claro, 62, on Sunday, September 11, 2016 in Edmonton, Alberta.
He was surrounded by family and friends throughout his 4 day stay at the University of Alberta Hospital and his final moments were intimately spent with his loving wife, Emily and his children April and Jun-Jun.
Romeo was born on March 1, 1954 in Manila, Philippines to a modest life where he had to work hard starting at a young age. This gave him the experience and knowledge to be wise beyond his years and this was demonstrated by his numerous academic achievements and accolades throughout elementary and high school. He went abroad in hopes of a better life and providing for his family back in the Philippines. This is where he met his wife, Emily, and they started a family shortly after but not before helping multiple family members obtain a higher education, something Romeo passionately believed in.  His children were his pride and joy and only provided the best for them. He was generous with his time, his knowledge and he would help anybody to the best of his ability.
Romeo is survived and will be dearly missed by his wife Emily of 30 years, his daughter April and his son Jun-Jun. He also leaves behind his only sister Remy (Fred), nieces, Leah, Jennifer and Lorie,  nephews, Eric and Erwin as well as numerous cousins, sister in-laws and brother in-laws and nieces and nephews.
He was predeceased by his parents Prudencio and Remedios Claro as well as numerous family members and dear friends.
Viewing and Prayer Service
Saturday September 17, 2016 from 5PM-9PM
Trinity Funeral Home Chapel
10530 116 Street, Edmonton, AB
Interment
Holy Cross Cemetery
The family is grateful for the many heartfelt condolences and never ending support from everyone as well as the exceptional care that the nursing staff provided on Unit 5A2 at the UofA Hospital.