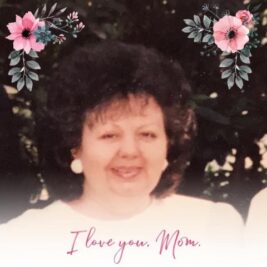 Rose Ann (Nowakowski) Bogdanoff
June 1, 1939
-
March 24, 2023
In the early morning hours of March 24, 2023, our beloved mother and grandmother, Rose Ann (Nowakowski) Bogdanoff, passed away. Mom was 83 and had been living in a nursing home in Edmonton for the past few years. Mother died peacefully at the Royal Alexandra Hospital, Robbins Pavilion, in the Cardiac-Pulmonary unit.
Mother was born on June 1, 1939, in Kennedy, Saskatchewan, the youngest of eight surviving children of my Grandparents, Kateryna (Catherine) (1901-1984) and Martin (1901-1996) Nowakowski.
Mother was predeceased by her parents; two brothers, Joe and George, and one sister, Anna all in infancy; sister Nellie Rautavirta (1934-2020); brother John Nowakowski (1928-2013); and her ex-husband, our (estranged) father, Steve Bogdanoff (1921-2003).
Our dearest mother, Rose Ann, is survived by her daughter, Pamela, husband Douglas Orr, and granddaughter, Alicia; son Mark; and son, Robert.
Mother is also survived by her sisters, Katie Horrocks (Harvey Walske), Swift Current and Agnes Hyde, Wawota; brothers, Stan (Theresa), Regina and Martin (Dianne), Calgary, and the children of her siblings.
Mother loved her family and worked very hard all of her life under some dire circumstances. She was a single parent for almost all of the time we were growing up as our father travelled internationally, working for a global oil company. My mother was on her own raising us since I was young. My parents divorced when I was about 10-11. Though mother had a hard life, she was a fighter. With all tasks, Mom believed doing your best was important.
My mom had been living with many serious health problems and conditions since 1988. Mother persevered through these health issues with tenacity.
Mother grew up on the farm my Grandparents acquired when they immigrated to Western Canada in 1929. Between 1886 and the early 1930s, Canada's Department of the Interior ran a vast publicity campaign to attract immigrant farming families from Central and Eastern Europe to settle on the Prairies. My grandparents were one of those farming families.
Mother went to Kennedy (Saskatchewan) School from Grades 1–9. For Grade 10, mother went a convent school because she thought she might like to become a nun. In the end, she decided not to do so. Mother was working on her LPN in Estevan when she met our dad. As it often happened in the 1950s, mom discontinued her program to get married and have a family.
Once we were in school, mom stressed to us that getting this education was one of the most important goals to achieve. School assignments always came first. In the 1970s, mom continued her education. She wrote and passed the GED test for her high school equivalency. In the early 1980s, she took Biology 20 and 30 in the evening.
Mother loved spending time with all of her family. As a grandmother, she had a special place in her heart 
 for her beloved granddaughter, Alicia.
Mother loved cooking and was an excellent cook. She was happy to share her recipes. Mom wrote out several delicious recipes (and lovely letters!) for me (Pam) when we lived in Halifax.
Mom also loved cutting & styling hair—she even cut her own hair(!) before her health challenges started. Mother liked all types of music and was always listening to the radio.
Mother also loved crocheting, crafting, horses, and gardening of all types—flowers, vegetables, herbs, and house plants. We have so many beautiful crocheted pieces she made for us. The baby headbands mom crocheted for Alicia and the Christmas ornaments she made were adorable, as were so many other things mom crocheted or crafted.
We would like to thank the doctors and nurses at the Royal Alexandra Hospital in both the Emergency Department and the Robbins Pavilion, Cardiac-Pulmonary Unit, for their efforts as well as others who helped with mother's care over the years, especially her family doctor of many years, Dr. Adams.
Mom was 20-years-old when I was born and had her 21st birthday about three weeks later. My mom was not only my mother—she became my dear friend. Mom was close to her sons, her son-in-law, and had a strong relationship with her granddaughter.
We are very lucky to have all of the years we had together. We are going to miss her so much.