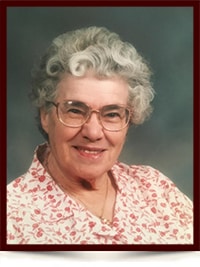 Rose Marie Armstrong
It is with sadness, that we announce the passing of Rose Marie Armstrong on September 23, 2016. She has shed the shackles of this life and is at home with her Lord and Saviour, Jesus Christ.
Rose was born on October 6, 1926 in Lacombe, Alberta. She was predeceased by her husband Thomas Armstrong, parents Marjorie and Herbert Woods, brothers Arthur and David Woods, and sister Hazel Woods.
She is survived by her 2 siblings Violet Brankston and Darrell Woods, sons Brian (Shirley) and Kerry, grandchildren Trevor (Alicia), Corinna (Todd), Keith (Gabriella) and great grandchildren Tatte and Monique.
Memorial Service
Saturday October 1, 2016 at 2:00 pm
Christian Life Center
10130 Princess Elizabeth Avenue, Edmonton, AB
In lieu of flowers, donations can be made to the Christian Life Center in Rose's name.