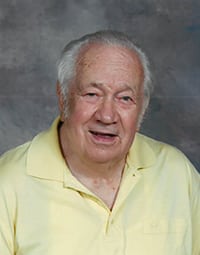 Rudy Podzuck
Rudy Podzuck, 81, of St. Albert, Alberta, passed away on May 12, 2020 from complications of diabetes and heart disease. His immediate family was privileged to be with him on his last day.
Rudy is survived by his wife of 57 years, Gerda, daughter Doreen, son Ralph (partner Daniel), daughter Monica, brother Sigfried (Fern), and three nieces. There were many wonderful people in his life that he counted as family.
He is pre-deceased by his parents, Hilde (nee Welke) and Emil, a brother who passed before Rudy was born, and a dear uncle, August.
Rudy was born in 1938 in Klein Budschen, East Prussia, now Germany. He immigrated with his mother, brother, and uncle to Canada in 1954 and became a citizen on February 15, 1961. In 1959, Rudy attended CTI, a bible school, and developed deep beliefs that were always visible in how he lived his life. He looked after his family working diligently in his lumber mill and he relished his occupation.
He was a kind and generous man, not just towards his family but to anyone in need for which he could provide assistance. He donated his blood throughout his life, and gave his time to many church causes. He was instrumental in organizing a more modern mode of shipping donations to Africa with White Cross. He and Gerda journeyed twice to Romania with relief goods and supplies to a sister church, which was also the beginning stages of establishing a seminary. As a result of his generous nature and unique personality, he made many friends that were near to his heart over his lifetime.
The family wants to express their appreciation to all of the doctors and nurses and caregivers who assisted with his care over the past year, all of whom were compassionate, kind, and caring.
A celebration of Rudy's life will be held at Central Baptist Church. A date will be announced.
Memorial donations can be made to White Cross, which is being administered by Taylor College & Seminary located at 11525 - 23 Avenue, Edmonton, Alberta T6J 4T3.