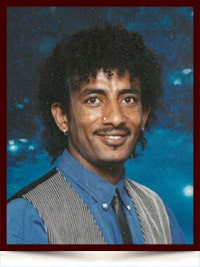 Samuel Andom
It is with great sorrow that the family of Samuel Andom announce his passing on April 9, 2017 at the age of 41.
Samuel will be sadly missed by Eden, his wife of 15 years, mother Zaid, brother Estfanos (Steve), uncle Tadesse and numerous other uncles, aunts, nieces, nephews, cousins, and close friends.
A Memorial Service for Samuel will be held on Saturday April 22, 2017 from 10:00 am to 12:00 pm at Kidane Mihret Eritrean Orthodox Church, 10665 – 98 Street, Edmonton, AB.
Samuels's kind spirit and generous nature will be missed by all who knew him.