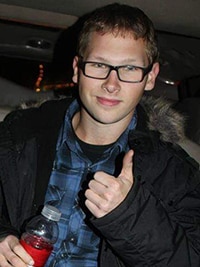 Scott Johnson
It is with deep sadness that we announce the sudden passing of Scott Timothy Lloyd Johnson on December 7, 2018 at the age of 26.
Scott was born in Winnipeg on November 6, 1992 and moved with his brother Eric and parents Anna and Tim just 18 months later to Edmonton.  Soon after arriving, Scott's brother Brett was born.  As a child, Scott was an active, happy boy who loved the outdoors; he was inquisitive and spent time visiting family in Winnipeg in the summer and enjoyed his favourite Chicken Delight pepperoni pizza. As Scott got older, he loved music and cars, had an interest in writing scripts and hoped to make movies one day.
Scott had a good sense of humour and a jovial laugh that made his beautiful blue eyes sparkle. His laugh was contagious and made those around him happy.
We were so proud of you and so lucky to have had you in our lives. Your uniqueness was cherished and taught us the most important things in life. Thank you for enriching our lives, dear boy. You will forever be in our hearts. We love and miss you.
There will be a private celebration of Scott's life on Friday December 14, 2018.
In lieu of flowers, donations can be made to:
Autism Society of Edmonton autismedmonton.org
Mental Health Foundation mentalhealthfoundation.ca