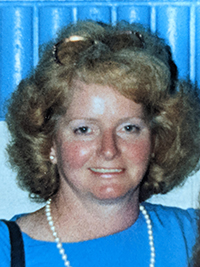 Shirley Ann Margaret Bryan
February 15, 1948
-
July 19, 2021
On July 19, 2021, Shirley Ann Margaret Bryan "Shirl", lost her life suddenly. She was only 73, and much too young to go. She was born to the late Douglas and Marjorie Ganton, and is now in their arms.
Shirley is survived by her son Craig, daughter Charleen, and grandchildren, Kayla, Brady, Dylan, Ethan, and Autumn.  She is also survived by her daughter-in-law Julie, and son-in-law Paul, who she always loved as if they were her own.  Shirley left behind five brothers and sisters, Douglas "Dougie", Susan "Susie", Ronald "Ronnie", Marlene "Molly" and Darlene "Dolly".  She now peacefully joins her other two brothers Robert "Robbie" and George "Jordy".
She had a tough job of being both mom and dad to her children, but she was the best at it, and made it her goal to love Craig and Charleen to the fullest.  Shirley was in her glory toting her children to and from sporting activities and dance competitions. She had a full life and reached many of her goals like being in the Wide World of Sports and winning many trophies for the butterfly stroke.
She started out as a beautiful model, on to a bunny server at the Terrace Bar in Toronto, and sometimes worked two jobs to support her family.  Her most recent favourite past time was bowling, and boy oh boy could she play! Her spaghetti sauce and cranberry sauce were always sought after at family gatherings.
She had the pleasure of being a hands-on grandma by spending most of her daytime with her grandson Dylan until he left grade school, and had the luck of being able to move out to Alberta to do the same with her other grandchildren, Ethan and Autumn.
You never said, "I'm leaving".  You never said, "goodbye".  You were gone before we knew it, and no one knows quite why.  A million times we needed you, a million times we cried.  If love alone could have saved you, you never would have died.  In life we loved you dearly.  In death we love you still.  It broke our heart to lose you, but you didn't go alone, you took a part of us with you, the day you were taken home.  If tears could build a stairway, and heartaches make a laneway, we'd walk our way to heaven, and bring you back again.  In our hearts you hold a place, no one could ever replace.
The world changes from year to year, our lives from day to day, but the love and memory of you, shall never pass away.