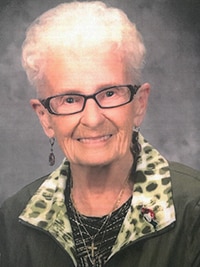 Shirley Lea
It is with great sadness, that the family of Shirley Lea announce her sudden passing on August 17, 2018 at her home in Edmonton.
Mom was born February 11, 1930 to Clarence and Bobby (Marguerite, nee: Brehler) Drummond.  She grew up in Ponoka, Alberta on her parents' Grand Meadows farm with her only sister and life soulmate Joyce.  As a teenager, she met and married in 1950, the love of her life, Bud Lea. Shirley and Bud lived and raised their family in Ponoka until moving to Edmonton in January 1973.
As a child of the great depression, mom learned very young how far a dollar could be stretched and ran a tight household. She never forgot the lessons of the depression and that people, not things and not money, were what needed to be treasured in life.
Mom worked initially as a telephone switchboard operator for AGT but spent most of her career with the Alberta Government as an office administrator, librarian and office manager, retiring in 1987 at age 57.
Besides spending time with family, mom's favorite things were camping in their RV (always by a roaring campfire), her beloved pet mini schnauzers (of which mom and Dad took a stint as breeders), and keeping in touch with old and new friends. After Dad's passing in 2011, mom lived at St. Andrews Senior Centre in Edmonton.  Our family is so thankful to mom's community at St. Andrews and at Meadowcroft for the friendship, love and care mom enjoyed.
More than anything, mom loved to laugh and share stories. Her bright eyes and smile would light any room and she left a lasting impression with everyone she met. Her memory of events of long ago was impeccable and she would always say "remember the time … " and retell a story from growing up in such vivid detail as if it happened yesterday.  She remembered everyone she met and always wondered what they were doing now. She remembered everything.
Mom leaves to mourn her three children Sharon (Airdrie, AB), Doug (Ruth, Regina, SK) and Brad (Catherine, Edmonton, AB), six grandchildren and nine great grandchildren. She was predeceased by her husband Bud in 2011 and her sister Joyce in 2002.
Mom did not wish to have a formal funeral and wished her remains to be cremated to rest with Dad's at the Holy Cross Mausoleum in Edmonton.
St. Andrew's Parish, 12720 111 Avenue Edmonton, AB, has graciously offered to invite you to 11:00 AM Mass on Thursday, August 23, 2018, to celebrate, share and cherish our memory of mom.
You were so good to us.
But Heaven?
Mom. It was right here, with you.
With Love,
S, D & B