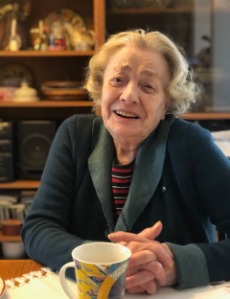 Sieglinde W. van den Berg
July 31, 1938
-
May 21, 2023
Sieglinde van den Berg (Mama)
July 31, 1938 – May 21, 2023
Epitaph: "No cooperation with evil is everybody's duty" - Gandhi
Sieglinde van den Berg (née Fiebig) was born in Berlin, Germany in July 1938.
Her early years were lived in the terrible circumstances of World War II which left indelible marks on her. Only 7 years old at its end, she had many stories and memories of the hardship her family endured. As a refugee herself, she felt deeply for the millions she saw in the news who are fleeing their circumstances. Throughout her life she spoke against the horrors of war, wondering often why people just don't learn.
Hopeful for a better future, on New Year's Eve 1959, this young woman of 21, left her beloved Heimat (homeland) to immigrate to Canada, alone. Working in Vancouver as a nanny, she met a young, Dutch immigrant artist named Jan in a coffee shop. They married quickly and moved to Edmonton where they started and raised their family.
Sieglinde is looked up to by many for exemplifying the values of a great mother, Oma, and friend. She spent many hours volunteering and had a huge servant heart. She loved young people and opened her home to many with whom she loved to debate and discuss. When her children were school-aged, Sieglinde, or Mrs. van den Berg as she preferred to be called, volunteered her time and talent to help teachers, tutor students, and repair hundreds of books to establish a school library. Students knew she was at school when they smelled her perfume in the hallways and teachers counted on her ability to get a class to order when they couldn't. Years after having her as a tutor, students who were now parents themselves, would thank her for her strict discipline that pushed them to always do their best.
Sieglinde had a strong faith and believed Jesus to be her Lord and Saviour. Yet she was tolerant and especially resonated with Jesus' kindness to the less fortunate, under privileged and the poor. She believed that Love is the greatest power, and that God is love.
Using her telephone, Sieglinde counselled numerous friends through difficult times. She was frugal but extremely generous and always thought of others before herself. Talented in sewing, crafting, and gardening she used her skills to give gifts of love made with her own hands. Above everything, Sieglinde loved her family, especially her grand children of whom she was so proud.
Sieglinde passed away peacefully in hospital on May 21, 2023 surrounded by the children and grandchildren she loved so dearly.
She will be deeply missed by her children Carmen (Brian), Marc (Tina), and Ieneke (Mark) and her beautiful grand children David, Dennis, Cassie, Faith, and Reese.
She was predeceased by her parents, Oswald and Hildegard Fiebig, her sister Gudrun, grand-niece Mareike, and her fourth child, Timothy. For all the years that she lived in Canada she remained steadfastly connected to Germany and regularly contacted her two brothers Eberhard and Wilfried, her good friends Karin & Dieter Vollroth, and numerous nieces, nephews, cousins, and friends. Sieglinde really lived her life with one foot in Germany and the other in Canada.
The family wishes to thank the first responders who helped Mama in her hour of need and the staff at the Royal Alexandra Hospital Emergency ward and Chaplaincy for their extraordinary compassion and kindness as they led us through the final hours of life.
At this time the family will honour Mama with a private memorial celebration to be followed by an Open House on Monday, July 3. Friends and family will be contacted with details in the coming weeks.
If you wish to remember Sieglinde, we ask that in lieu of flowers, you donate to your favorite charity. Some agencies that were close to her heart were the Red Cross, the YESS Centre and the Edmonton Food Bank.
God bless each one of you with his love.