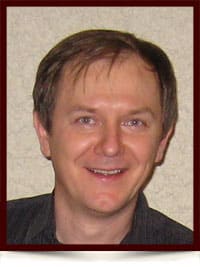 Slavko Lepki
February 19, 1967 – November 4, 2016
Slavko passed away peacefully in his home at age 49 from pancreatic cancer. He will be missed by his wife Sylvia (Sava), children Sofia (age 11), Tomas (age 8), and Mark (age 8), parents Josip and Jelena (Rudak), brother Miso, sister-in-law Slavica (Bjeli), nephew Teo, niece Anna, as well as many family and friends who loved him dearly.
Born in his grandparents' hut atop a hill in the village of Tomašica, Bosnia and Herzegovina, Yugoslavia, Slavko spent his early years in Bosnia and Croatia. He began playing his accordion and singing at weddings and events as a young boy. As Yugoslavia tore apart, Slavko left friends and memories behind in 1992, spending a few months in a refugee camp in Austria where he married his first wife Snezana (Krndija).  Soon he began a new life in Edmonton, Canada, where he completed a telecommunications diploma and journeyman certification, separated with his wife, and helped his parents come to Canada. For over ten years Slavko worked at TELUS, most recently as an engineering technologist.
He continued to share his musical joy and talents on the stage, moving people to dance and sing at hundreds of community celebrations with his band "Haydamaky" and many others. He met Sylvia while working at the Ukrainian Cultural Heritage Village, and soon after they married and started a beautiful family. He delighted in his three wonderful children and was an amazing father.
Slavko was proud of his Ukrainian heritage and inspired his children to learn the language, music and culture. He loved good music, good wine, good art, and good friendships. He enjoyed travelling, especially the annual winter trips to tropical destinations and family "Lepkiada" reunions. We will miss Slavko's quirky sense of humour, entertaining character, musical talents, and above all his good heart.
ВІЧНАЯ ПАМ'ЯТЬ
Prayer Service 
Friday, November 11  7:00PM
St. George Ukrainian Catholic Parish
(11305- 95A Street, Edmonton)
Mass of Christian Burial
Saturday, November 12  12:00PM
St. George Ukrainian Catholic Parish
(11305- 95A Street, Edmonton)
Following the burial at St. Michael's Cemetary, all who knew Slavko are welcome to an informal reception at 2:30PM at the Ukrainian Youth Unity Complex (9615-153 Avenue, Edmonton) for light refreshments and conversation.
Please consider donating to cancer research organizations or the Cross Cancer Institute in lieu of flowers.