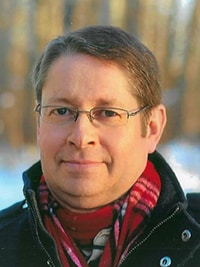 Stephen Derrall Wildfang
On Thursday, March 15, 2018, Stephen passed away with his family by his side at the University of Alberta Hospital, Edmonton, from Acute Myeloid Leukemia.
Stephen is survived by his loving wife of 29 years, Darla (nee Bjornson); daughter, Larissa (Willem) Kubke; son, Alex; and granddaughter Stevie Johanna Kubke. He will be forever loved and sadly missed by his mother Shirley; sisters Shelley (Todd Pleon) and Jennifer (John Weir); brothers Jeffrey (Kelly) and Jay (Linda), as well as in-laws Dennis and Carol Bjornson, brother-in-law Curtis (Bonnie) Bjornson and his 11 nieces and nephews. He was predeceased by his father Gerald Wildfang of New Hamburg, Ontario.
Born in Waterloo Ontario, the eldest of five children, Stephen was a leader from an early age and always there to lend a helping hand. Academically, he was always at the top of his class. After graduating with honours from Wilfrid Laurier University Business School, Stephen moved west to Edmonton and joined Peat Marwick Thorne (now KPMG) and was "adopted" by the Hirsch family. In 1986, he achieved the designation of Chartered Accountant through the Institute of Chartered Accountants of Alberta. In 1993, he left KPMG and started his own successful practice which he continued through his illness.
It was Stephen's 'duty and delight' to serve others, and he spent the core of his life doing so. He devoted over 27 years of service as Treasurer of the Synod of Alberta and the Territories, ELCIC; 8 years on the board of the MS Society in various roles and over 20 years as Treasurer or Congregational Chair of the congregations of Ascension Lutheran Church, and Holy Spirit Lutheran Church in Edmonton. He was Treasurer of the ELCIC Canadian Lutheran Youth Gathering from 1988 to 2002.
He loved sports and rarely missed a home game of his beloved Oilers or Eskimos. He was an avid fan of the Boston Bruins and Toronto Blue Jays, often enjoying a pint with his son as they cheered their favourite teams. He followed international soccer, golf, formula one racing, basketball and eagerly awaited each curling season to watch and play with the Hirsch brothers.
Stephen loved his family dearly, and enjoyed spending quality time with them, whether it was yearly 'honeymoons' with Darla, camping trips and dinners with Larissa, Willem and Alex, or trips back to Ontario, he was always happiest when together with family.
The family wishes to express their immense gratitude and thanks to the staff at the University of Alberta Hospital Medical Outpatient Unit, including nurse practitioners Janet and Nicole; but especially on the Hematology Unit: nurses Katelyn, Chelsea, Holly, and Mike; and Doctors Tiffany Van Slyke and Minakshi Taparia for their loving care of Stephen and individual support of the family through his illness.
Memorial Service
1:00PM Friday April 6, 2018
Trinity Lutheran Church
10014-81 Avenue NW Edmonton, AB
Donations in honour of Stephen may be made to the Alberta Synod, ELCIC – designated to Missional Formation, or the University Hospital Foundation – designated to the Hematology Unit.