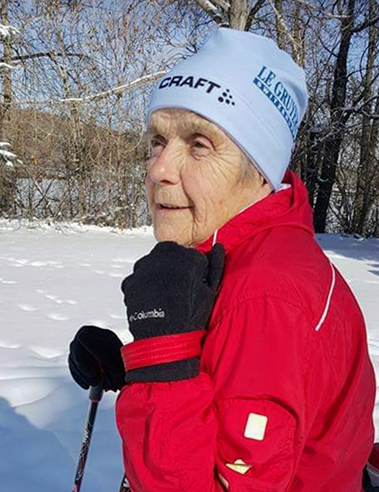 Sylvi Elisabet Kankkunen
January 11, 1940
-
October 10, 2023
It is with great sadness that we share the passing of Sylvi Elisabet Kankkunen on October 10, 2023 at St. Micheal's Care Centre at the age of 83 years.
Sylvi was born in Kaustinen, Finland on January 11,1940. Sylvi always had a spirit of curiosity and adventure. She left her home and country at the tender age of 15 just before Christmas to live in Canada with her sister Saara and husband Augusti. She helped Saara and Augusti on the farm for a while before moving in with her cousin Kertuu and worked at a bakery. It is at the bakery she honed her skills at making pulla that she became quite well known for. In 1958,  Sylvi worked at the Corner Restaurant where she met Elmer and they fell in love over a sandwich. Sylvi and Elmer were married in 1958 and started their family in 1959.
Sylvi managed the farm and raised her family while Elmer was at work at his government job. Elmer's career led the family moving to Toronto and eventually to Edmonton. Then retiring back to Thunder Bay to spend time at the farm and lake - back in the bush which they both loved.
Family, community, the outdoors and having a laugh were Sylvi's passions. Everywhere they lived Sylvi & Elmer would get involved with a variety of clubs and organizations ie Reipas, Edmonton Nordic Ski Club, Edmonton Finnish Society etc. Sylvi ending up hosting people from all walks of life in our home which resulted in many lifelong connections.
Sylvi never stopped moving:  between cleaning, cooking, baking, knitting, walking, skiing, working and being with friends and family. She rarely sat down for long - one of her sayings was "Movement is Medicine".  She was curious, funny, full of life, caring, hard working and kind hearted.  Mom adopted many of our friends and so we have an extensive extended family. Many holiday dinners were shared with an assortment of people at the table.
Sylvi is survived by her daughters Susan Kankkunen, Marleen Kankkunen (Dave Boe), son Andy Kankkunen and granddaughter Raili Boe as well as relatives in Canada and Finland.
As per Sylvi's wishes cremation has already taken place and a Celebration of Life will take place:
Friday October 27, 2023 at 1:00 - 3:00 pm at the ACT Centre in Rundle Park followed by interment in Thunder Bay at a later date.
A special thank you to the staff at St Micheal's Care Centre for the care and compassion they provided to Sylvi and family over the past year.
If so desired donations can be made in Sylvi's memory to : Lappe's Church, the Alberta Cancer Foundation or CKUA