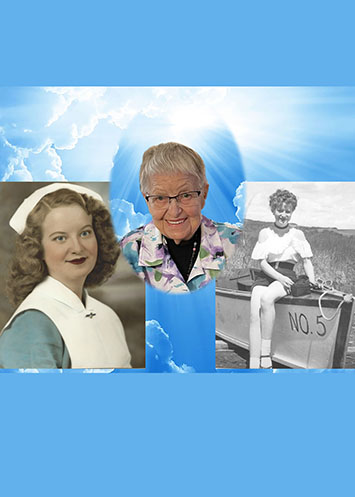 Sylvia Marie Zeeh (nee Purcell)
April 30, 1931
-
May 1, 2022
Sylvia Marie Zeeh (nee Purcell), our loving and devoted Mom passed away peacefully on May 1, 2022 at the age of 91 years old in St Albert, Alberta with family at her side.
A strong woman of faith, dedicated to her family and friends. Loved beyond measure, her bright smiling eyes, gentle laugh, sweet voice, and caring ways will be missed.
You mean so much to us and are a wonderful Mother, Grandmother, Auntie, and friend. No words can describe the gift of precious memories you have given us as daughters since you brought us into this world to become part of 'Your People'. You taught us to put God first in our lives, love, pray, face life's challenges with strength and grace and become the best versions of ourselves. Nothing can describe the joy, pride and blessing we feel being embraced by you as family and friends.
Sylvia leaves behind her precious daughters and son-in-laws Sonja (nee Purcell) & Murray Mongowins, Arlene Zeeh, Donna (nee Zeeh) & Rick Chorley; her treasured grandchildren Dan (Jordan), Sherri and Chris (Jennifer) Mongowins, Annelise and Brandon Chorley; her precious great grandchildren Evan (daughters Blayke and Lilith), Hollyanna (sons Jayquel and Akari), Alexa (son Raiden) and Dominic King, Mikel, Amanda, Erica, Kaitlin (Hamm) and Devlin Mongowins, Everly and Bennet Hamel and sister-in-law's Merie Purcell and Marianne Skinner; Her Stepson's family, Jan, Greg, Joelle (Jim) and Lena. She also leaves behind and will be greatly missed by many nieces, nephews, cousins, and friends, all of whom she treasured.
She is predeceased by her beloved husband of 43 years Ken, her Father and Mother John and Olga Purcell, and siblings, Lloyd, Earl, Norvel, Irene (Bevan) and Roy, and her stepson Robert (Bobby) Ryan.
There will be a viewing on:
Tuesday May 3, 2022 at 6:00 p.m. – 8:00 p.m. at Trinity Funeral Home 10530-116 Street, Edmonton, Alberta.
To allow family and friends the opportunity to attend Sylvia's Celebration of Life Service, the family have arranged to have two separate dates and locations and these options are as follows:
Celebration of Life - Edmonton
Saturday May 7, 2022 at 11:00 a.m. at Dovercourt Baptist Church, 12321-135 Street, Edmonton, Alberta. Reception to follow.
Live Stream Link: https://youtu.be/LtNPZXMI6aw
Celebration of Life - Saskatoon
Saturday, May 14, 2022 at 11:00 a.m. at Faith Baptist Church, 1601 Munroe Avenue S., Saskatoon, Saskatchewan. Reception to follow.
Live Stream Link: https://www.youtube.com/channel/UC_FbXcVo27Ygs1XOUj9Wo0Q
A Reflection of a Life Well Lived
Born in Birch Hills, Saskatchewan to John and Olga Purcell on April 30, 1931, Sylvia was taught to put God first place in her life, then family and friends. Her Dad taught her to say I Love You every day and not a day went by over the last 91 years that she did not say it, even in her weakest moments.
Sylvia was a Certified Nursing Assistant and known for her compassion, integrity and strong work ethic. She had a determined spirit and if anyone said she could not do something, she would with determination and grace say, "Okay just watch me, I can and I will."
Sylvia loved and cherished her 3 girls, Sonja, Arlene and Donna and stepson Bobby. When Ken Zeeh came into her life, she found her true companion and a new adventure began. Before she agreed to marry him, she said you aren't just marrying me, I come as a package. Ken was fully committed to love this whole package and adopted Arlene and Donna who were still little, and this couple exemplified their love every day. Family has always been so important for Sylvia and Ken, and as their family grew, so did the many gatherings. The one still fondly remembered is the Annual Boxing Day Breakfast where they would have 40 to 60 family and friends drop by for a literal feast and wonderful visit. Their home was often referred to as "Chateau Le Zeeh".
Sylvia had so many adventures, including living in Kumasi, Ghana, West Africa for 2 years. One of her favorite stories at that time was being so excited to receive letters from her Mom who would talk a little bit about herself and the family, a whole lot about Another World, the popular soap opera at that time, and then briefly mention the house next door had a fire! Being around family was so important to Sylvia that when she got back her biggest surprise was her daughter Sonja and family moved back to Saskatoon. Each year she would take holidays just to spend time with her grandkids Dan, Sherri, and Chris up at the lake.
In retirement they moved full-time to Shell Lake, dubbed "Cookie Lake" by her other 2 grandchildren Annelise and Brandon, as there was always a full jar of cookies at the entrance. Eventually their final move was to St. Albert, Alberta where they built their home to be closer to Arlene and Donna and family. It was the right move at the right time and the celebrations with family and friends continued, just in a new location.
Sylvia was a powerful woman of God and Prayer Warrior, praying for her family, friends and all that needed her prayers. Each time a challenge came her way she'd say "This too shall pass." A friend introduced her to another favorite saying that she read every day "Inhale the future, Exhale the past."
"Always be joyful. Never stop praying. Be thankful in all circumstances, for this is God's will for you who belong to Christ Jesus."
1 Thessalonians 5:16-18