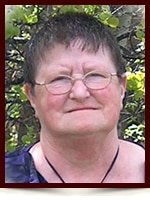 Thelma Daphine Turcotte
On March 5, 2015 Daphine Turcotte passed away peacefully at the age of 73 years in Leduc, Alberta. 
Daphine is survived by her children: Alvin (Lisa), Larry (Denise), Orla (Boyd) and Leonard (Kari): grandchildren: Jeremy, Nicole, Jesse, Jessica, Chelsea, Cody, Mallory, Layne, Tyson, Taylor and Brooklyn; great-grandchildren: Alice, Hunter and Raven; Brother, Bill (Barb) and numerous nieces, nephews and friends. 
She was predeceased by her parents Alvin and Thelma Myhre and sisters, Florence and Delores.
Celebration of Life
Tuesday March 10, 2015 at 2:00 P.M
Bashaw Community Centre
Memorial Donations
Canadian Arthritis Society
Contact Information:  [wpseo_address oneline="1" show_state="0" show_email="0"]