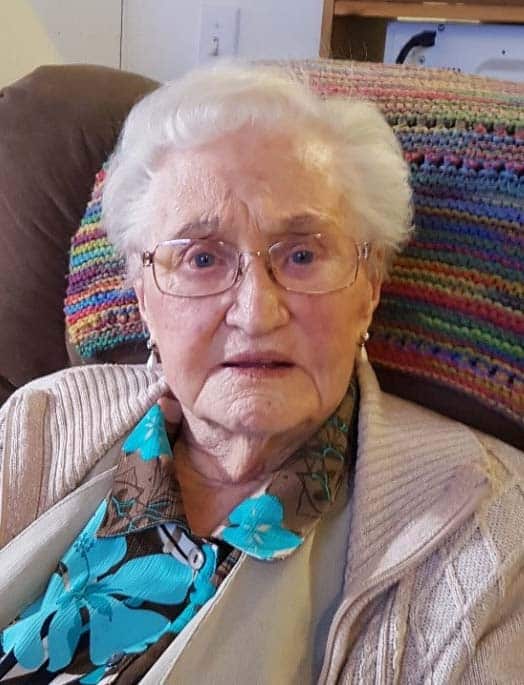 Thelma Lamb
Originally from Epsom, Surrey in the U.K., Thelma's father had named her after a horse he had won money on the day she was born. He hoped that this good luck would follow her throughout her life.
Following the war, Thelma married a Canadian soldier she had been seeing, Ted Lamb, and subsequently joined the many war brides emigrating to Canada after WWII. After a brief stint in Saskatoon, she moved with Ted to Lone Rock, Saskatchewan to start farming under the V.L.A..
Ted and Thelma had 5 sons, all still living: Robert, James, Dwaine, Greg and Martin. While they kept her busy for many years, during which she went through a lot of wooden spoons, she still made time to pursue other interests. She loved music; she loved dancing. The house was always full of music that she would be dancing to. Additionally, she and Ted became ardent square dancers.
Thelma loved knitting all her life. From delicate baby clothes to heavy Siwash sweaters, she knitted them all. After Ted died, she started knitting a prodigious amount of slippers that became coveted by all who used them.
Thelma was an avid sports fan all her life. Many a broom was broken during the World Series or the Stanley Cup. (It wasn't necessarily safe in the house at these times.) More than just a fan, she actively participated in many activities. A good swimmer, she swam for her school, and later undertook to ensure her kids became good swimmers, too. Thelma also loved curling, and her foursome went to many a bonspiel, often coming home with the trophy. Later, she became involved in bowling; again another room full of trophies that we don't know what to do with.
Not one to mince words, she could be a fierce antagonist. (As kids, we used to laugh when grown men crossed the street to avoid her.) She was either a good friend or a good enemy, and people either loved or hated her. There was very little grey area in this aspect of her life.
Thelma and Ted became snowbirds after retiring from the farm and made many friends from all over Canada and the U.S. during the time they lived in Mesa, Arizona. Later, when Ted's health became an issue, they moved to Vernon, BC. Their house overlooked beautiful Lake Kalamalka, and during these years, their kids and grandchildren always showed up to enjoy summer and winter vacations with them.
In 2001, they moved to a complex in Callingwood, Edmonton, Alberta to be closer to their children, and to enjoy flat land again as Ted had some mobility issues with slopes (A lot of the Okanagan seems to be built on slopes.) Unfortunately, Ted died shortly after settling in Edmonton.
Thelma continued to live on her own with Jackson, a small dog that Brandy, her granddaughter, gave her after Ted died; in fact, Jackson became her constant companion. While in Callingwood, Thelma found a good friend in a neighbour, Martha Koch, and they stayed in touch daily until Thelma died.
About 5 years ago, she and Jackson moved into Ironwood Estates, an independent living seniors' residence in St. Albert — close to her son, Greg, and his wife, Denise, and their family.
Not long after, her health started to fail. You know, all those little things that impair one's quality of life as you get older, but not her mind; she was sharp until the end. Luckily, Greg and Denise were always there to help her. Also, Lisa Brodie, another granddaughter, was invaluable during this period.
Sadly, on February 3rd, 2018, she was admitted to Sturgeon Hospital in St. Albert, and on the following day, just before midnight, she passed away. Thelma was 90 years old.