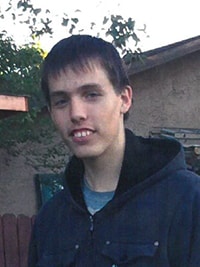 Thomas Timothy Crossan
Thomas Timothy Crossan, of Edmonton, AB, passed away on November 20, 2018 after he lost his life long battle with depression.
Thomas was born Tuesday, February 2, 1998 in Athabasca, Alberta. He was named after the poet, Dylan Thomas, which is very suitable considering he quickly became passionate about reading and writing as
he grew older.
From an early age, Thomas developed a very giving, kind and loving personality. He is also remembered as having the biggest heart, always eager to lend a helping hand to anyone in need. This is why he enjoyed working at Goodwill, he loved having the opportunity to give back to the community.
Left to cherish his memories are his mom Nicole Louise Harrison, his sisters Lynyra, Irene and Hollie Jade Nicole Crossan and brother Perry Calvin Shamchuk-Crossan along with numerous extended family,
friends and coworkers.
There will be a chapel service and gathering at Trinity Funeral Home, 10530 116 Street, Edmonton on Monday, November 26, 2018 at 2:00 pm.
In lieu of flowers, please make a donation to The Canadian Mental Health Association in Thomas' name.