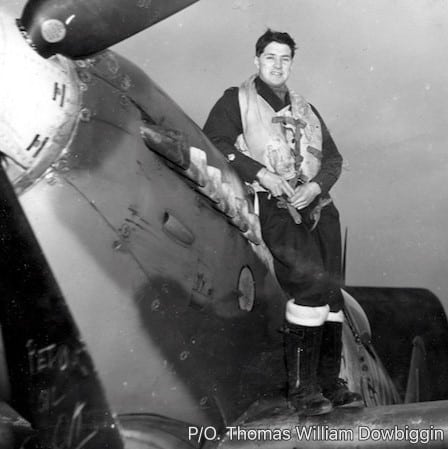 Thomas W. Dowbiggin
Thomas W. Dowbiggin [December 3, 1919 – July 19, 2020].
Tom led a long and eventful life and will be missed by those who knew him. He was born in Montreal, attended Strathcona Academy and then McGill University. He enlisted into the RCAF in 1940 and after training was stationed in Tangmere and Biggin Hill in England before a stint in North Africa where he eventually contracted malaria and was returned to England. On April 24th 1944 flying out of Tangmere he shot down a Messerschmidt 110. Shortly thereafter on a mission over Belgium and France he ran out of gas and ditched into a field to allow his colleagues the opportunity to destroy the plane before it was found. He then found and worked with the underground for many months before being captured and interned in a POW camp.
Upon arrival he was assigned as camp cook and locked in the mess hall where he stacked up tables and escaped through the roof. Unfortunately, the barbed wire at the top of the fence slowed him down enough to deny him freedom. On one forced march between camps he slipped away into a tavern to have a beer before rejoining the march [there was no place to go]. The freedom did come however, during his last relocation when the guards disappeared and a British regiment found and liberated them.
Tom returned to Montreal, married Martha Geoffrion and had three sons. Tom retired from the air force in 1957 having achieved the rank of Squadron Leader and started an aviation industry business. Martha unfortunately died in 1971 and Tom lived out his years travelling and spending time with his sons. His last eight years were spent at Rosedale Villa, an independent living facility in Edmonton, where the staff took excellent care of him.
Tom's last year was eventful as always with the 401 Squadron, now stationed in Cold Lake hosting him for an early celebration of his 100th in August followed by his actual birthday celebration in Playa del Carmen, Mexico where he enjoyed a swim up bar beer on his 100th with family. In January he fell ill with pneumonia and never really recovered passing away at the U. of A. hospital under the comfort and care of the very professional staff of ward 5D2.
Tom leaves behind his sons, Tom [Val], Bill [Lynne], Donald [Arlene], grandsons Michael, Nicholas [Tasha], Timothy and Johnathon, Grand daughters Allison and Caitlin and great Grandchildren Xavier and Charlotte. He was known by family and friends as "The Legend", a well-earned accolade. He will be missed. No service is planned as the family will have a memorial next summer.