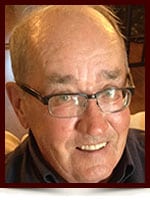 Tony Prokopiuk
October 4, 1943 - June 19, 2016
It is with a heavy heart that we announce the sudden passing of Tony Prokopiuk on June 19, 2016. Tony is survived by his wife Shirley, daughters Sabrina, Krystal (Dave) and Nicole (Michael); grand sons Kyan, Kaiden, Connor and Jacob; brothers and sisters Sonya, Helen, Fred (Mary), Peter and Shirley (Wayne) and numerous nieces and nephews. Tony was predeceased by parents Paul and Mary, sisters Vera, Olga, Lula, Nettie and brother Walter.
Tony's was a life well lived! He was a kind, generous soul who enjoyed socializing with family and friends, volunteering with Special Olympics and the many years spent chauffeuring his girls around to numerous activities. He retired from Manitoba Pool Elevators in 1998. Life became far more adventurous with the birth of his grand sons, all whom he treasured and loved dearly.
Join us for a gathering of family and friends at 4pm on June 25, 2016 at Rio Terrace Hall 15500 76 Avenue. In lieu of flowers, donations can be made in his name to St. Albert Special Olympics PO Box 206 St. Albert, AB T8N 1N3.